A Pilgrimage to the Parsonage
As a Brontë fan, I'd long yearned to visit the Brontë Parsonage Museum in Haworth, West Yorkshire, England, the famous literary family's home. I finally fulfilled that quest in June, 2017, while on a UK trip with my wife, celebrating our 25th wedding anniversary.
A '70s festival took place in Haworth the weekend we visited, so the hilly, shop-crammed street leading uphill to the Parsonage was alive with crowds of nostalgic visitors, many clad in hippie or dandy outfits of that era. This scene made it doubly odd to walk through a small doorway in the Parsonage's brick facade and find ourselves in the early 1800s. However, we were soon fully immersed in Brontëana.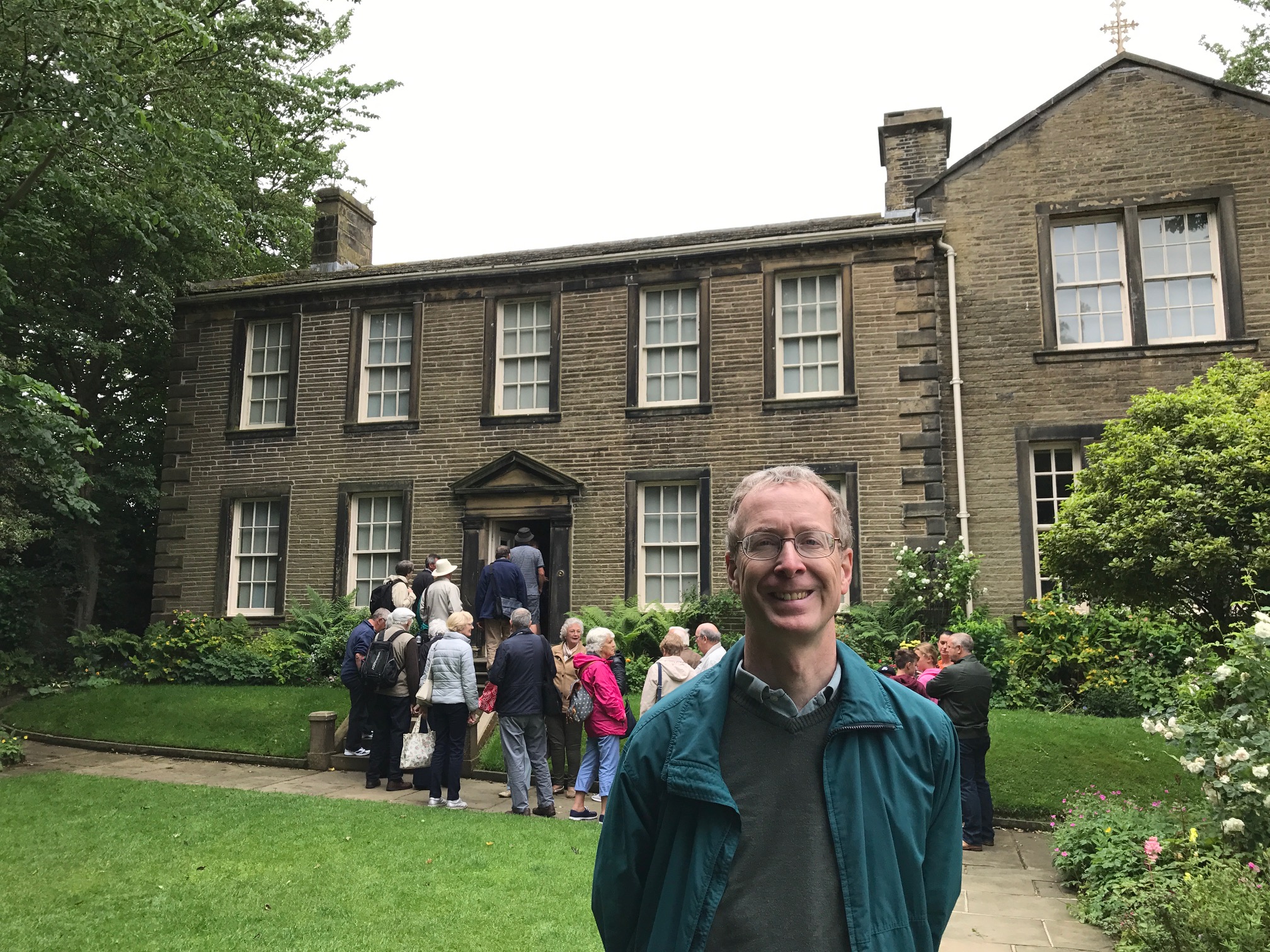 Your author: a pilgrim at the Parsonage
Much of the building has been restored to an approximation of its condition in those days (reversing some modifications made to it in the past couple of centuries). Many artifacts are genuine, while a handful of the ones on display (mostly costumes) were created for the recent biographic drama To Walk Invisible. A couple of items in the family's former living quarters gave me the shivers: the actual dining table on which both Jane Eyre and Wuthering Heights were written, and the upstairs room where Charlotte drew her last breath, the final tragedy that completed the erasure of Patrick Brontë's brood of children.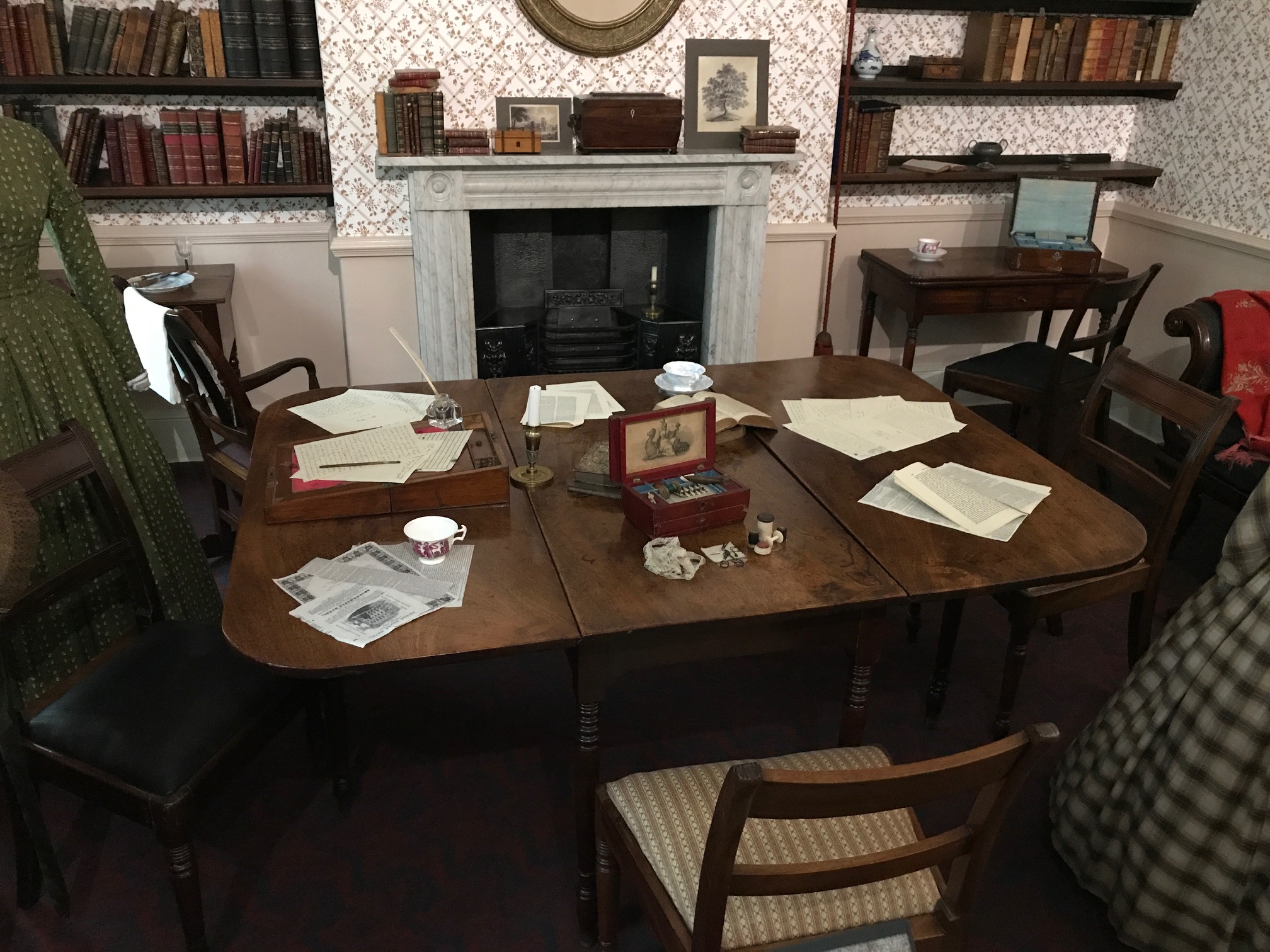 Two great novels were written here
After touring those quarters, one finds oneself in the exhibit space, where glass cases are filled with memorabilia from the Brontës' letters and books and artwork to their ordinary household items (eyeglasses, quill cutter, pictures of friends, etc., etc.). Historical notes provide details about the family's interests and endeavors. This space could occupy the Brontë enthusiast for untold hours.
Finally, no visit is complete without a tour of the gift shop, where we filled a small bag with souvenirs, presents, and tchotchkes. (Strangely, I was unable to find a Charlotte Brontë or Jane Eyre t-shirt in either the gift shop or the Haworth commercial area. Too plebeian?)
Leaving the Parsonage, we stopped in to the neighboring church, which was rebuilt after Patrick Brontë's term as Reverend. However, we chose not to view the Brontë family tomb, where all family members except Anne lie at rest.
On another day in Haworth, we hiked a substantial distance along the moors to reach the Brontë Bridge, a small stone bridge over gently rushing waters, where the sisters are said to have lingered during their long walks. (We didn't proceed an additional distance to reach the old farmhouse called Top Withens, supposedly the inspiration for the house in Wuthering Heights.) Along the way, gusty breezes made the grasses and shrubs wave and dance, and sheep traipsed across their grazing lands close by. This experience gave us a taste of the wildness that sparked some of the Brontës' renowned nature scenes.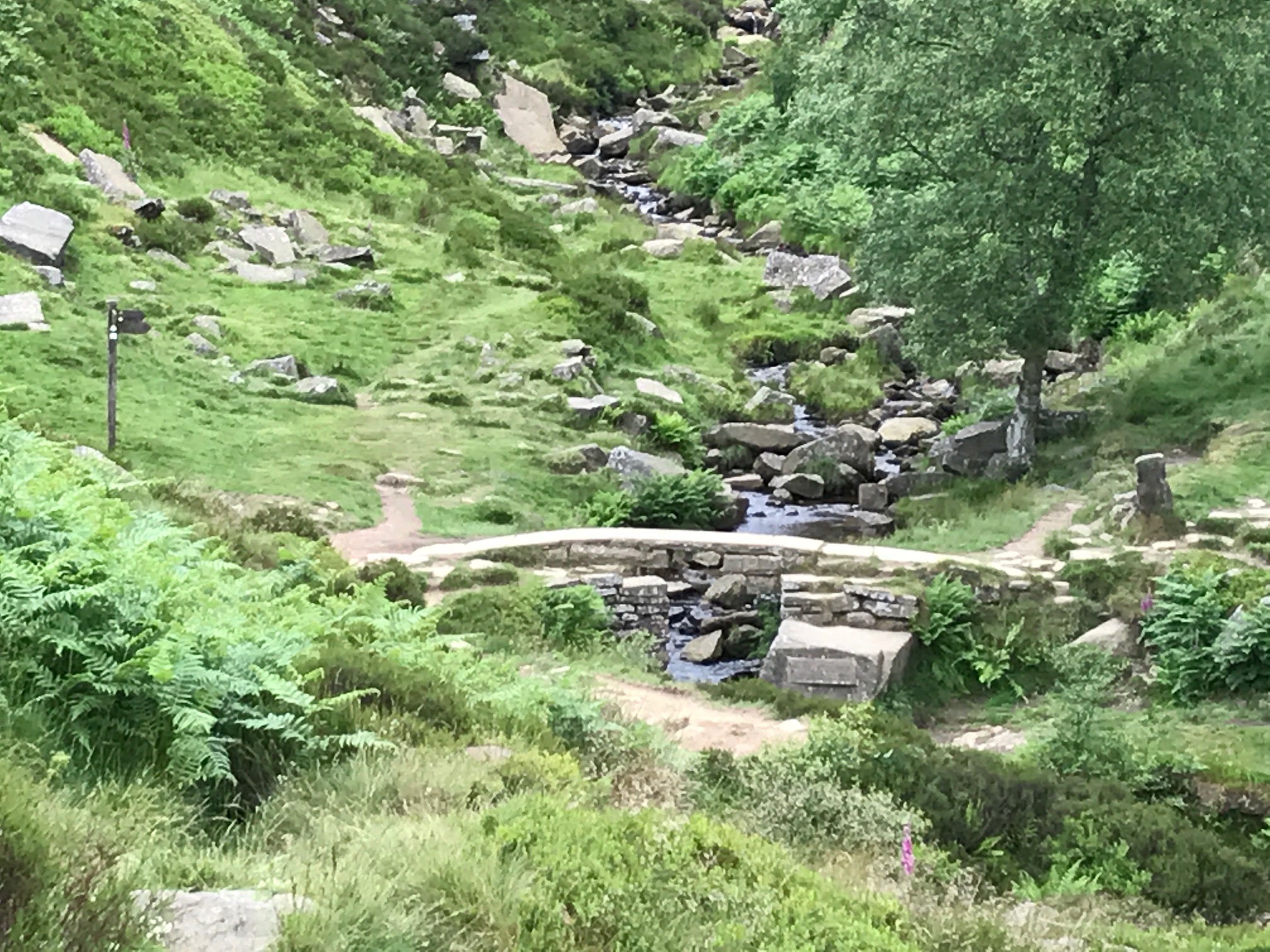 Brontë Bridge — worth the hike
I was glad to find that the shopping district was not a wall-to-wall Brontë market. Certainly, some shops carried merchandise aimed at the visiting literary set, and one busy food market was even called "Villette." But other shops, as well as local pubs, seem typical of those you'd find in any English village.
I highly recommend a Haworth adventure to anyone who wants to learn more about the Brontës. Even though I care more about their writing than their lives, it was fascinating to see the environment in which that timeless writing flourished.